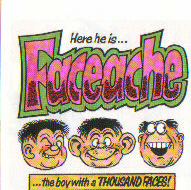 Back to Faceache's Profile
15/12/84 - New boy Cripsley gets Faceache into trouble.
29/12/84 - Faceache gets hiccups at the Christmas Party.
01/06/85 - Someone has been stealing Matron's biscuits.
29/06/85 - Faceache wants to play tricks on the new assistant at the joke shop
20/07/85 - Faceache kicks his ball into Mr Nasty's garden
27/07/85 - Faceache sneaks down to the Cake Shop
05/10/85 - It's the day of the school photo and Faceache has the hiccups
28/12/85 - Faceache helps to put up the Christmas Decorations
04/01/86 - Snipe makes Faceache resolve to stop Scrunging in 1986
24/05/86 - Faceache sneaks out of class.
06/09/86 - Faceache helps a kid get his paddling pool back
20/09/86 - Faceache causes chaos at the fair