Back to the Buster Stars Interviews
Scott Goodall MBE - Writer 1968 to 1982
Scott Goodall's name may not ring any bells to the average Buster reader. But throughout the 1960s & 1970s his scripts provided hours of enjoyment for Buster readers. Scott was the master of the adventure stories with Galaxus, Sammy Brewster's Ski-Board Squad, Marney the Fox and Zarga amongst his writing credentials.

Fishboy, a character invented and written by Scott, was voted last year as your 2nd favourite adventure strip (behind the Leopard of Lime Street) from Buster and 17th favourite strip of all time. Four other strips he worked on all made the top 50.

Scott, firstly thanks for sparing the time to talk to us. Did you ever believe when you were writing these scripts that Buster's popularity would still be strong in 2010?
Never! But I suppose you can translate "popularity" as "nostalgia"...and many of you grown-up kids obviously have some happy memories of those good old comic days! I remember reading the D.C. Thomson text-stories in "Wizard" and "Hotspur" with great affection.

Your strips are clearly fondly remembered by visitors to our site. What do you think makes them so special?
Probably because it was the readers themselves who decided on the success of the stories. Kids were always encouraged to write in and say which adventure they liked best and every comic editor had a popularity chart pinned up prominently on the wall of his office...a series of graphs showing how many votes had been received for - say - "The Leopard from Lime Street" and how many for "Galaxus" or "Fishboy" or whoever else happened to be around in the pages at the time!

Looking at your impressive CV, most of what you wrote was for adventure strips. What made this genre more appealing to you?
Mainly because I was no good at the comedy stuff! It took a special kind of up-market brain cell to make people laugh out loud at something on a written page. Writers like Colin Edmonds and Roger(?) Cook were brilliant at what used to be called "one-liners". Editor Bob Paynter too, had a wicked sense of humour masked by a totally laid-back disposition. Adventure stuff was far easier for me because I'd been brought up on "Biggles", "The Saint", "Wilson the Wonder Athlete", and "Red Circle School" to name but a few.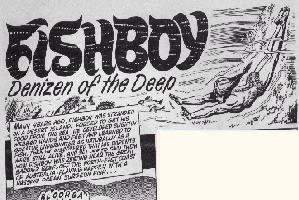 How many of the strips you wrote for were of your own creation?
I certainly invented "Fishboy" - based, I think, on a TV series of the time called "The Man From Atlantis" about a bloke who lived in a lost underwater city. "Marney The Fox" was also my idea, based on the book "Tarka The Otter" by Henry Wiliamson. My original thought was to do a "boy alone against authority" series, but make it an animal hero instead of a boy hero! My original instructions to artist John Stokes (who'd also drawn Fishboy), was that every picture was seen through the eyes of the animal alone! My thinking being that we'd only see humans from the waist down! Didn't always work, naturally! "Sammy Brewster's Ski-Board Squad " was also my idea based on the late 1970s skateboard craze and a follow-up to a script I did in TV Comic called "The Kicktail Kid". Bob Paynter and I also invented "Rat-Trap" in Cor!! comic and "Splash Gorton" the hippy flower-power swimming freak was also mine. That ran in Tiger magazine.

Reading through an interview you did for Comics UK a few years ago shows the numerous strips you worked on. How many strips were you working on at your peak and how did you manage to keep track of all of the different ideas?
Regularly, between 1966 until the end of the 1970s and the steep decline in the comic market, I was doing about seven or eight scripts a week. It all depended on what was going at the time, but an average week would be something like... "Captain Hurricane" (Valiant) ,"Galaxus", "Fishboy", "Marney the Fox" (Buster), "Kid Cameleon" (Cor!!), "Splash Gorton" (Tiger), "The Fists of Jimmy Chang" (Battle), or "Zarga, Man of Mystery". Fellow scriptwriter Tom Tully was even more prolific, averaging ELEVEN scripts a week. Needless to say, both of us were usually late on delivery and keeping track of all the different ideas also involved very late working hours and frenetic contacts with various editors combined with the intake of a certain amount of alcohol! (A lot of alcohol??) Aye...





Whilst the artists get a lot of credit for some beautifully illustrated pictures, I've read the writers tended to get grief for the choice of words. You yourself had a few memorable experiences. Tell us more
Seems strange looking back now, but under Fleetway editors like Sid Bicknell, Jack le Grand and George Allen, writers were never allowed to use the word "dead" in a script. No one ever "died", they were "doomed", "finished" or "done for" but never "DEAD"! Another forbidden exprssion was "gorblimey", which according to Sid Bicknell meant "God-Blind-Me" and might offend certain religious groups! Sid also forbade the use of the word "FLICK(ER)"...like the flick of a knife or the flicker of an eye, because one day a woman cleaner in the office had seen the word "FLICK" written on a sheet of blotting paper and thought it was "FUCK"! From that day on, Sid reckoned that "flick" lettered in a script could too easily be mis-translated on a comic page and thus create trouble for all concerned. Another less than golden rule by one mindless, besotted sub-editor who shall remain nameless is that the scream "AAARRGH" only had three "AAAs" in it and not FOUR - as I invariably used!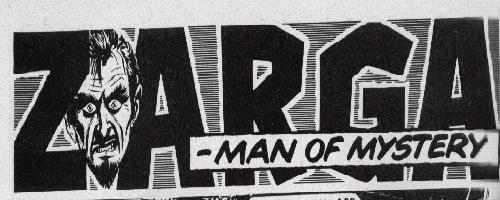 You were with Fleetway during a real boom for comics and also spoke to Comics UK about seeing the industry begin to decline. What was the dynamic like within the company and how did it changed whilst you worked for them?
In the heady days of a flourishing and highly profitable comic industry, the work involved was based on simple and harmless entertainment for boys and girls alike. Of all ages and all types. Make them laugh, sometimes make them sad, make them dream of one day being a Roy of the Rovers or a Princess magazine ballet star, but above all keep it as FUN. The scenario as I knew it only faded in the mid 1970s when circulations began to plummet and new publcations like Battle and 2000AD changed the face of comics forever and the blood began to flow with a vengance. Pity really, but I'll always remember the good times and the host of interesting editors, writers and people I worked with. My only regret is that I never met any of the artists who drew so much of my work so well and for so long. People like Joe Colquhoun, John Stokes, Mike Weston, Solano Lopez, Eric Bradbury and Roylance to name but a few. Their output was truly astonishing.

Who did you really enjoy working with and admire during your Fleetway years?
When I first started working as a freelance for Fleetway in the mid-1960s, two of the senior editors, Jack le Grand and Sid Bicknell were ex-World War Two veterans. My first script for them was Captain Hurricane, the Royal Marines Commando who had his "Ragin' Fury" every week in Valiant comic, ably helped by his Cockney batman Maggot Malone. Fortunately they liked what I did and through them I went on to enoy very happy and friendly working relationships with other Fleetway characters like the comic genius Bob Paynter, Super-Library editor Gil Page, Tiger editor Barrie Tomlinson, Scorcher (and latterly Roy of the Rovers) editor Dave Hunt plus Len Wenn, who - I think - was the very last editor of Buster.

I was also great mates with freelance writers Angus Allan and Tom Tully. Angus wrote "Look-In" magazine practically single-handed for about seventeen years and sadly died here in France two years ago. Tom Tully - he of the amazing weekly script output - was to my mind one of the best script-writers of all time. He did some fantastic stuff. For Buster..."Pete's Pocket Army", "Van Hoffman's Invasion", "The Leopard From Lime Street"...and in Valiant..."Raven on the Wing", "Kelly's Eye", "The Wild Wonders", "Master of the Marsh", "Roy of the Rovers"...etc, etc, etc. Freddie Baker was another script-writer I admired greatly. For Buster his "Kids of Stalag 41" was a classic of its time. His football stories were also top-notch. "Hot-Shot Hamish" and "Billy's Boots" are just two examples.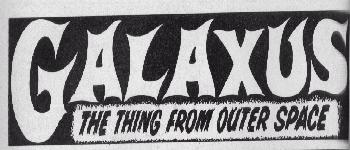 Of everything you've written (not just for Buster) what's your personal highlight?
I was very fond of "Captain Hurricane", "Galaxus" and "Fishboy" mainly because they ran for so long and they became part of my life! But my personal favourite was "Rat-Trap" in Cor!!, developed over lunch with Bob Paynter one day in the early 1970s. Doctor Ratty Rat lived in the sewers and surfaced regularly up into the streets to rob and rave. As an organisation called B.I.F.F.F. (British Institute For Foiling Felonies) was unable to catch Doctor Rat, they appealed evey week to the readers of Cor!! to send in a suitable trap to catch him. Letters flooded in. I was receiving fifteen hundred a week at my Devon home, while even more would arrive at Bob's office. A weekly prize was offered for each reader's trap which was used. Naturally, Ratty Rat escaped every week and blew a foul rodent raspberry..."RAASSSSP" at the useless, moronic minion of a reader who thought he'd been clever enough to catch him!

And is there anything you wish had been down to you?
Not really...I always had enough on my own plate to cope with and produce without yearning after anbody else's creations!

Egmont (who now own the Fleetway rights) issued a Buster special last year and included work from Galaxus & Marney the Fox. Did you get to see a copy?
No, I didn't even know it had been published. I'd like to see a copy for old times' sake...and also a royalties cheque at the same time! Preferably dated back to 1968!

How do you think historians will sum up the work of Scott Goodall MBE when the entire Buster catalogue is unearthed from a time capsule in 1,000 years?
AAAARRGH! (with four AAAAs instead of three)!

Scott, thanks so much for spending the time talking to us!

Ever wondered what a comic script looks like? Scott very kindly provided a copy of his script for the last ever Fishboy. Click here to see it (opens as a PDF file).

Back to the Buster Stars Interviews