Back to the Buster Stars Interviews
Gordon Robson - Letterer & Resize Artist 1985 to 1999
Gordon Robson is another of those names that may not ring any bells to a Buster reader. But over the years his efforts in lettering Buster strips and resizing them for Comic Libraries were appreciated by many. He even took the opportunity to add in his own characters.

However, his affiliation with Fleetway goes way back to 1973 where as a forteen year old his submission to Shiver & Shake's Creepy Creations was itself resized by Ken Reid and copied up exactly how Gordon had drawn it.

Here, Gordon talks about increasing panels, working across most of the Fleetway titles and sheds light on that elusive Issue 29 of the Buster Comic Library that was never released.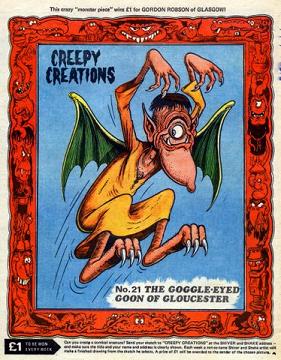 Gordon, firstly thanks for sparing the time to talk to us. How did your first get involved with Fleetway?
I first got involved with Fleetway/IPC when I showed some samples to Steve MacManus, editor of 2000 AD, at a Glasgow comic mart in October, 1984. The samples were photocopies of my own artwork which I had lettered, my intention being to get my foot in the door as a lettering artist and then work my way up to drawing comic strips. Steve must have seen some promise in my samples and told me that, deadlines allowing, he'd send me some artwork to letter when he could. After a couple of months of waiting (during which time I got a note from Steve telling me that he hadn't forgotten me) I decided to visit King's Reach Tower in London and see what would happen. I think Steve would have preferred if I'd 'phoned to arrange it first, but I left the 2000 AD offices that day with my first lettering job - a Tharg's Future Shocks story called The End of the World.

And how did you join the Buster team?
One night, in the offices of 2000 AD, Bob Paynter, group editor of the humour department, asked me to letter a Cap'n Kid & the Pirates for Whizzer & Chips. This strip actually appeared in print before the Future Shocks one, so it must have been well past deadline and lettered by me at the last minute. (I started to letter it in the 2000 AD office minutes after being given it, so it sure wasn't my fault.) I think Bob was impressed by my enthusiasm for comics, so he introduced me to the editors of Whizzer & Chips, Buster, Whoopee (or it might have been Wow!) and whatever other comics were being published by IPC at that time (the beginning of '85), who all gave me strips to letter.

You spent quite a bit of time working on the comic as a resize artist - what exactly does a resize artist do?
One day, knowing my aspiration to do some drawing, he spoke to Brian Smith (I think), editor of the comic libraries, who gave me (via Bob) a piece of card with a panel (without borders) from a strip pasted to it for me to "draw up". This meant adding detail and extending the size of the panel - it was basically a test to see if I was capable of it. Obviously I passed the test, because I was given pages of Whizzer & Chips Comic Library issues to "re-size", and, eventually, some pages for Buster Comic Library too (I think - not too sure after all this time).

This involved taking a PMT (Photo-Mechanical Transfer) of a standard size strip and turning one page into two to fit the dimensions of the smaller format. There were two reasons for this: firstly, to shrink a full-sized comic page down to library-size would have rendered it extremely dfficult - if not impossible - to read; secondly, it would have used up twice as much material in half the time. Doing it this way, the strips were less sore on the eyes, and the back-catalogue of reprint material lasted longer. (After a while, we switched from PMTs to ordinary photocopies, because it was less expensive and easier to draw "around".) I don't know how many people re-sized the Busterpages, but there were two of us on the Whizzer & Chips ones. As Whizzer was a separate edition from Chips, at first we both had one each, but later Bob started to give both of us half-and-half from each publication. Looking at the Buster pages 25 years later, there's none that I can readily identify as mine with absolute certainty, but I think I recognize a few joke pages. (I wouldn't have done any pages before half-way through its run, if indeed I did any - sorry for my leaky memory).

What else did you do for the comic whilst you worked on it?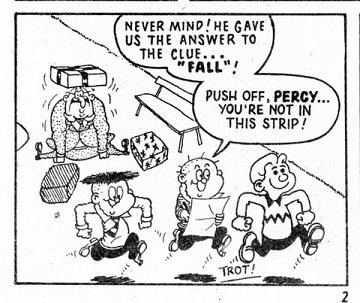 Well, I didn't just paste down the panels and extend the horizon lines. It had been common practice for the "bodgers" who worked on the comic libraries to do what they could get away with - or what their skill allowed. That's why, whenever you see a strip that has been re-sized, it's usually obvious because, where required, the artist has merely extended the linework to fill the panel. That is, if he's had to extend the panel by an inch, top, side, or bottom, he merely added to whatever lines were visible till they filled the picture. This often led to less than satisfactory results, with doors that looked twenty feet high, or characters looking like they were on stilts compared to the previous panel. You see, when you juggle the panels from a single page into a different arrangement to fit the dimensions of two pages, some panels need cropped and others need added to. I always made sure that characters' sizes and details were consistent within the strip, and it wasn't uncommon for me to actually add characters to fill the spaces, rather than merely extend horizon lines into infinity.

Once, in a Joker strip, I drew Mr Toad from The Wind in the Willows tearing down the road in a motor car; and, in a Champ strip I drew one of my own characters (Percy Proon) running alongside Champ and his pal. I even added a speech balloon, with Champ saying "Push off, Percy...you're not in this strip!" I put a lot of work into them, in order to make the "joins" as invisible as it was possible to achieve. I'm not knocking those that preceded me, however - most of them had probably been in the business for years and found it boring, repetitive work. Also, not all of them were actual artists, I don't think, so I assume they did the best they could. For me, 'though, it was a dream come true, and I was all fired-up and wanting to prove myself.

Did you ever come across any problems when adding characters to your strips?
One time, in a Pete's Pockets strip, I drew a picture of Mighty Mothfrom Polystyle's TV Comic (then no longer being published) leading a swarm of moths which were flying out of the pockets of Pete's jacket. I proudly pointed this out to Brian, but wished I hadn't when the comic saw print. Concerned about copyright problems, even 'though the comic was extinct, he deleted ol' Mighty from the head of the queue. This left a gaping space at the end of the panel, which ruined the composition of the picture.

Your work wasn't solely for Buster, what other comics have you worked on?
2000 AD, Battle Action Force, Eagle, Judge Dredd Magazine, Diceman, Sonic the Comic, Ace Ventura Pet Detective, Whizzer & Chips, Crisis, Revolver - just about everything that IPC produced between 1985 and 1999. Also, just about everything Marvel UK published between 1987 and 1993/4. I also freelanced for Warhammer's Black Library comics and magazines, Redan, Usborne Books, and worked as a restoration artist on a couple of volumes of Marvel Masterworks for the US market. I'm proud to have lettered strips for Buster weekly and a few of the annuals (as well as re-sizing pages for them - but this time making them bigger instead of smaller).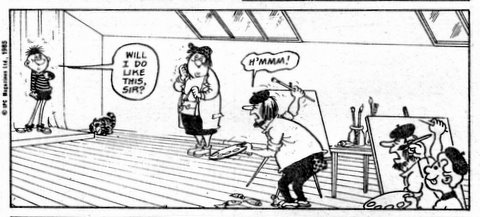 Who did you really enjoy working with and admire during your Fleetway years?
Steve MacManus (2000 AD editor, and the man behind the recent Buster special), Simon Geller (2000 AD sub-editor and one of the writers of Rogue Trooper), Bob Paynter (Group editor of IPC's humour division), Allen Cummings (Buster editor), Dave Hunt (Eagleeditor), Kevin Brighton (art assistant), Doug Church (Group editor of the art department, I think, but one of the big guns), Terry McGhee (Battle Action Force editor), Paul Ailey (art assistant, who was one of the Odhams staff who worked on the Power Comics of the sixties) - and Keith (Whizzer & Chips editor), whose surname I forget. (Sorry Keith.) Another name that is more than deserving of mention is Alan McKenzie (2000 AD sub editor after Simon Geller - 'though there may have been others in between), who gave me as much work as I could handle and was/is a really great guy - as was his successor, John Tomlinson.

I have many happy memories of them all, and really enjoyed going down to London every week (sometimes twice a week) to drop off and pick up work. I remember, back in 1986, standing on the 26th floor of King's Reach Tower and gazing down on the panoramic view of the South Bank and the Thames below. I was talking with Steve MacManus and Kevin Brighton, and asked Steve what 2000 AD would be called in the year 2000. He must have heard that question hundreds of times before, but with his customary patience, replied "Well, that's fourteen years away, Gordon - we have plenty of time to think about it." And indeed, to me, it seemed like it was so far ahead of me that it was an eternity away. Looking back now, however, 24 years on from that day in IPC HQ - well, it seems like only last week.

Also, I must tell you the following story, because not too many people will know this. I was talking to Allen Cummings one day in the Buster offices, not too long after they had moved into Irwin House with the rest of the comics department. As we were chatting, a note pinned to the wall at the side of the desk attracted my attention. It was from the family of Ken Reid (who had passed away not too long before), saying that Ken had been working on a Faceache strip just before he died and, if Allen didn't mind, they would like to hang on to it as it was the last thing he drew. I don't remember if the letter said the page was complete, or in pen or pencil stage, but just think - somewhere out there is a Ken Reid page that very few people have ever seen.

The Buster Comic Libraries are quite famous around these parts because of the missing Issue 29. Can you shed any light onto what happened to it?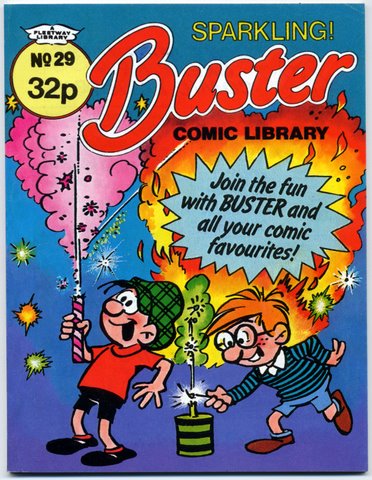 It was printed, but was pulled because it showed Buster on the cover holding a firework. As I freelanced for Buster at the time, Bob Paynter (Group Editor of IPC's Humour Division) was able to acquire a copy for me, so I'm lucky enough to have a full set. A picture of the cover of Buster Comic Library #29 did appear on the backs of Whizzer & Chips Comic Library #13 and 14, but it was in black and white.

Egmont (who now own the Fleetway rights) issued a Buster special last year. As someone who work in the background of the comic, what did you make of it?
It was great to see Buster back on the shelves, but it could have done with a bit of colour. And Galaxus, Charlie Peace and Fishboy were sorely missed. Considering that Panini only charge £2.95 each for their full-colour, 76 page magazines, I also thought that £3.99 was a bit expensive for a 56 page black and white comic (even if it was printed on good quality paper). It must have been aimed squarely at the collectors market, because I can't see too many kids picking it up at that price. However, I really do hope it sold well, and - on the whole - Steve MacManus did a good job of putting it all together.

How do you think historians will sum up Buster when the entire catalogue is unearthed from a time capsule in 1000 years?
Well, both you and I know it was sheer quality, but tastes will no doubt have changed in 1000 years. They'll probably look at it with bemusement, and pity us for not having had 3D, stereo, smell-o-vision, holograph-comics. Unfortunately, they'll never know what they missed. There's nothing to beat being perched on the porcelain in the smallest room of the house with a copy of BUSTER (or, indeed, any good comic) clutched in your grubby little mitts. (Or is that just me?)

Thanks for talking to us Gordon.

Back to the Buster Stars Interviews