Back to the Buster Stars Interviews
Trevor Metcalfe - Artist 1965 to 1990
Trevor Metcalfe was one of the long standing artists at Fleetway. One of his earliest works Our Great Grandpa appeared in Buster way back in 1965. But he was better known for his work on Fuss Pot, Junior Rotter & Sweet Tooth all of which ran in Whizzer & Chips before making the switch into Buster in reprint format when Whizzer and Chips ended in 1990.

Since leaving Fleetway, Trevor has worked on strips for The Beano & The Dandy, the Ronald McDonald & Friends comic as well as completing more serious illustrations for, amongst others, the World Health Organisation.

Trevor, firstly thanks for sparing the time to talk to us. Did you ever believe when you were drawing strips for Fleetway that their popularity would still be strong in 2010?
To be honest, I never gave it a thought. I just focussed on the job in hand, to do it as well as I could and to meet the weekly deadlines.

Fuss Pot & JR both appeared in the top 30 Buster strips in the poll that we held last year proving that your strips are still fondly remembered. What do you think makes them so special?
I didn't draw Fuss Pot many times, the success of that strip is due to the work of the original artist Norman Mansbridge. JR, Junior Rotter was popular because of the link to the TV series Dallas which inspired it. The scripts were always good, which counts for a lot!



When did you start producing comic strips?
I always wanted to be a cartoonist from aged eight, but my first published comic strip was called The Ice Squadron which appeared in Keynotes, an army magazine in Germany during my National Service 1959-61.

One of your earliest pieces was Our Great Grandpa in Buster, how did you get that break?
I offered it to D C Thomson first who turned it down, so I sent it to IPC who placed it in Buster as a half page strip in black and white only.

Since then you did a lot of work for Fleetway and saw the highs and lows of the entire Fleetway Empire. What are some particularly strong memories?
My work on Jasper the Grasper for Corr! comic and Sweet-tooth in Whizzer and Chips are the most memorable simply because of their longevity.





Throughout the 1980s most of your work was for Whizzer & Chips. Was there any rivalry between the comics?
Not really, I always regarded Whizzer and Chips as one comic, not two. The 'Two comics in one' was just a gimmick.

How did you find out that Whizzer & Chips was to end?
I don't actually remember, I'd seen a few comics come and go and it didn't matter to me, as long as I could get other work elsewhere. I've been careful to diversify, doing all sorts of artwork, mindful that ANY comic can end at short notice.

Did you have any say in which strips moved into Buster?
No that was purely an editorial decision.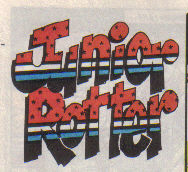 Junior Rotter & Sweet Tooth lasted right through the Buster years with Fuss Pot appearing in sporadic bursts. Were all of these strips reprints or did you create any new material?
I've no idea when my work was reprinted as I don't buy comics myself.

Looking through your website you've really diversified with your artwork using a mix of the traditional to computer generated art. Which do you enjoy doing more?
Drawing on my Mac is the most enjoyable. I can make the linework exactly the same as my earlier work with a dip pen on card. But it's great to be able to add effects, textures, colour and speech bubbles with ease. Since starting to use the computer, as an artist I feel re-born, it's a wonderful tool.

Who did you really enjoy working with and admire during your Fleetway years?
My good friend, the late great Robert Nixon. I admired the work of Mike Lacey and Reg Parlett although I never met or worked with them. I always enjoyed looking at the work of Timothy Tester artist Cliff Brown. Cliff has a unique and distinctive style all of his own.

Of everything you've worked on (not just for Buster) what's your personal highlight?
I enjoyed collaborating with Robert Nixon on The Gems strip in The Sun newspaper in the 70s. I also enjoyed doing the strips for Ronald McDonald & Friends because most of the issues I drew, coloured and lettered all the cartoon pages myself. My most recent comic strips have been for The Cambridge University Press. I'm involved in doing more illustrations for Africa like those on my website for The World Health Organization.

And is there anything you wish had been down to you?
I always look forward to the next job with the same enthusiasm I started out with. I still want to be a cartoonist when I grow up!

Egmont (who now own the Fleetway rights) issued a Buster special last year. Are you hoping that Whizzer & Chips might follow with some of your work on display?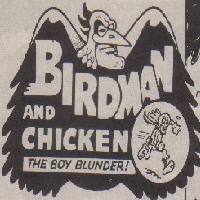 If I got a reprint fee it would matter, but as I don't, it doesn't.

How do you think historians will sum up the work of Trevor Metcalfe when the entire Buster catalogue is unearthed from a time capsule in 1000 years?
Probably rather like Marmite, you either love it or hate it!

Thanks for talking to us Trevor.

If you want to see what Trevor is up to these days, check out his website which includes a full colour Birdman & Chicken strip.

Back to the Buster Stars Interviews