Back to the Buster Stars Interviews
Mark Bennington - Artist & Writer 1985 to 1998
Mark Bennington first arrived at Fleetway to help fill some pages for a Whoopee summer special. He quickly became one of Fleetway's rising stars working as an artist and a writer.

His early work for Buster included Blub the Sub as well as writing for Tom Paterson's Buster strip, Gordon Hill's Chalky and Mike Lacey's X Ray Specs.

He stuck with Buster throughout the 1990s writing and drawing for The Crazy Characters centre page spreads and Whizzer & Chip's faourite Memory Banks. He was the second to last artist to leave the comic, ahead of Jimmy Hansen and JEO.

Here he talks about creating Crazy Characters, Crucial's Spin-off and ends the question of who was more brainless......Dozy Derek or Bernie Banks?

Mark, firstly thanks for sparing the time to talk to us. Did you ever believe when you working on strips for Fleetway that their popularity would still be strong in 2010?
When you are a kid you dream of being an adult but when you get there it's not all its cracked up to be and you often wish you were a carefree kid again…nobody likes to get old…so things you did as a child remain forever fondly in the memory…including those comic book heroes…

I grew up (born 1963) reading Fleetway…Buster, Whizzer and Chips, Shiver and Shake, Monster Fun…loved all the humour titles…so it was great to work and write and draw characters I myself had grown up with, and what were essentially some of my childhood heroes. It's good to think something I created had a similar effect on following generations…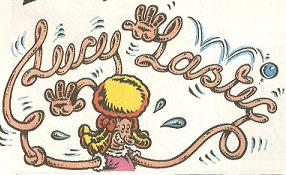 Memory Banks, Lucy Lastic and Captain Crucial all made it into last year's Top 100 Characters poll. What do you think it is about these strips that makes them so fondly remembered all these years on?
Each generation has certain characters that stand out for them…Bernie Banks and Crucial used to feature a lot in the readers artwork that was sent in…Lucy was my own personal favourite creation…the best characters are underdogs or losers who battle the odds to come good in the end.

When did you start producing comic strips?
My mother was Belgian, a country with a big tradition for cartoon strips…Tin-Tin, The Smurfs…shops there are full of graphic novels and cartoon books…maybe I have some of that in my blood!

My first strips were published in local freebie papers around 1982…I got about £4 a strip…but that inspired me to try bigger…the editor of the News of the World gave me some useful addresses and I got onto the books of King Leo Studios, an agency that got my foot in the door at Fleetway…

How did you first get involved with Fleetway?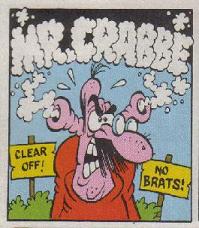 Bob Paynter was chief editor then and gave me some pages in a Whoopee summer special…and by the end of 85 I was getting regular work…I was quite a prolific scriptwriter by the end of the 80's…over the years I wrote for most of the main characters…art wise I was a bit raw to begin with but I worked on that and got it to a better level by the 90's.

Writing Buster's strip for Tom Paterson helped as I got to study his brilliant artwork. His art almost moves on the page, he's a master at 'still' animation!

You managed to work on a selection of the Fleetway comics during the late 1980s, did you have a favourite?
Buster was a great title… and I was particularly proud to draw a couple of Buster's cover strips myself. Being attached to a nationally produced publication also opened up other opportunities to artists…I got TV, Book and Marketing work thanks to Buster. I always remember my first trips up to the comic offices in London and walking past the big cardboard cut-outs of Judge Dredd in the foyer.

You drew the strips that covered the adventures of Buster's friends such as Dozy Derek, Delbert, Brenda & Mr Crabbe. Did you have to ensure the adventures these characters had didn't clash with what was happening in the title strip?
Yeah Buster's mates graduated to their own pages…I think Derek got the first week…I am a bit of a self-editor and self critical, I like to keep my ideas fresh and flowing…I was always looking for new ideas to explore…

Memory Banks made the jump across to Buster when Whizzer & Chips merged. Were all of these Buster strips reprints or were some of them still new?
I believe Bob Paynter created Bernie Banks…Memory Banks pages I drew in Buster were all new, as where all those who came across from Whizzer.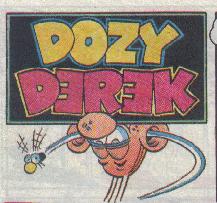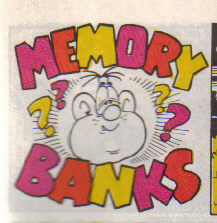 Who would win in a brainless battle between Dozy Derek & Bernie Banks?
Dozy Derek and Bernie had trouble getting dressed and leaving the house so the chances of them finding each other for a battle would be pretty slim!

Derek might just edge it.

The Crazy Characters dominated the centre pages from 1991 onwards. It appeared to start off as a joint venture between yourself, Tom Paterson & Mervyn Johnston. How did this work?
I had been writing Busters strip for a few years and in 91 the Big Comic Chiefs wanted him to return to his old cheeky-normal-kid-type, pre 90's, my stuff was more off the wall – aliens and monsters and weird inventive stuff - so Allen Cummings gave me the centre spread as replacement…Tom was to be the artist but departed not long after and was replaced by Mervyn…I pretty much had a free reign to create whatever whacko characters dropped out of my brain.

When Mervyn went, and this was the beginning of the cut backs in contribution staff, I then became artist for the centre spreads…

You eventually had full control of the strips following Tom & Mervyn's departure. Where did all of the ideas for the different characters come from?
Ideas pop out of anywhere at anytime really…

Actually..Lucy Lastic was created by my brother's underpants…he happened to mention that he had 'loose elastic' in them and this sparked in my head as a name for a character…

Crucial was an attempt to be a bit more 'street' and contemporary…Allen did tell me it had been suggested for him to get a spin off comic title..maybe a Crucial special at first…but the cutbacks were kicking in and the idea was shelved.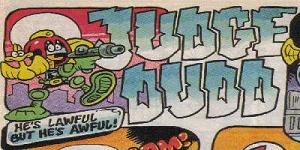 Of all of the Crazy Characters do you have any personal favourites?
Lucy Lastic was fun and had a lot of scope for fantastical ideas and big action scenes and adventures…and Judge Dudd I enjoyed drawing…he was approved by 2000AD too…

You watched Fleetway shrink over the years you worked with them. Was there a sense of inevitability that the end was nigh?
Buster's end was expected for some time…lots of structural changes…cutting back to bi-weekly …staff cuts….

In the last years I was just drawing the odd Easter or Halloween seasonal page in an otherwise reprint issue…apart from Buster's title strip…

What do you remember about finding out your work on Buster was coming to an end?
It was a sad time…like losing a close friend…and none of us were employed on a contract basis so employment wise it was a shocker…


Who did you really enjoy working with and admire during your Fleetway years?
It's a bit of a lone wolf job…you work mainly on your own…with only contact and feedback from your editor…Allen Cummings was great and gave me a lot of opportunities…Bob Paynter gave me the initial encouragement and pointers to get started…somewhere there is an embarrassing schools tv program clip with me and Mervyn discussing a Crucial idea…Tom Paterson's work is what you aspire to…

Of everything you've worked on (not just for Buster) what's your personal highlight?
Initially getting work published at Fleetway was brilliant…and through that I got an eight part illustration job for a BBC schools tv drama …Captain Crimson in 1996 I think…which is on YouTube…and a little gift book I illustrated 'The Tourists Guide to the British' became infamous, got splashed across the tabloids, breakfast tv and was brought to the attention of the House of Commons! I also enjoyed my time writing for an Ace Ventura title that had a decent run…

And is there anything you wish had been down to you?
I am still working to achieve a successful newspaper strip or syndication strip…

Egmont (who now own the Fleetway rights) issued a Buster special last year. What did you make of that and the decision to root it in the 1970s?
The 70's was when comics were at their height of popularity I would say…there were of course less challengers to what kids spent pocket money on then…so its not surprising the Buster special was of that generation…though every generation has its day…in my time Buster was still shifting a decent amount of copies even up to its demise…Egmonts shift to concentrating on licensed titles sealed its fate…

How do you think historians will sum up the work of Mark Bennington when the entire Buster catalogue is unearthed from a time capsule in 1000 years?
That would be great to be remembered in a 1000 years time!

I would hope I was original and creative… much of my best work is probably invisible as a writer…I did manage to get Buster, X Ray Specs and Chalky to the top three in the readers charts for a while…so that's not bad going…

Thanks for talking to us Mark. If you want to see Captain Crimson in action you can find it here and you can pick up a copy of The Tourist's Guide to the British from Amazon and other good book shops. We're also hoping to dig up that other BBC Schools TV clip, keep checking back for that!

Back to the Buster Stars Interviews