Back to the Buster Stars Interviews
Jack Edward Oliver - Artist 1977 to 1999
Jack Edward Oliver joined Fleetway having been working on short strips in newspapers and magazines for many years. He became the sole remaining artist for Buster in 1999 when the title strips went into reprints, and single-handedly wrapped up all of the characters' stories in the final issue.

In June 2006, he granted an interview with our former sister site bustercomic.com. Sadly, less then a year later he died of cancer. This interview never saw the light of day, until now. Courtesy of Paul Monopoli, Jack talks about how he began his cartooning career, the rise of manga and drawing small scale.

A question I'm sure you've been asked on many an occasion, but how did you initially get into cartooning?

As a mere tot, I used to copy the large pictures from the front page of 'Mickey Mouse Weekly'. At primary school, I produced my first comic (in pencil), called 'A Comic Of Fun (and Excitement)'. This was followed by 'Mixup' and then by its companion comic, 'Puxim', which I kept going all through grammar school (where it was read by Mick Jagger – remember him?). Eventually, Puxim metamorphosed into 'Teenage Male' and then 'Modern Male'. These became ever more popular at school as they contained ever more salacious material. I still have most of the hand-made comics I drew from the age of eleven upwards.

I also duplicated comics – 'Laugh With Jack', 'Panther' and 'Funture' – to sell at school. And I drew a daily strip for the class notice board.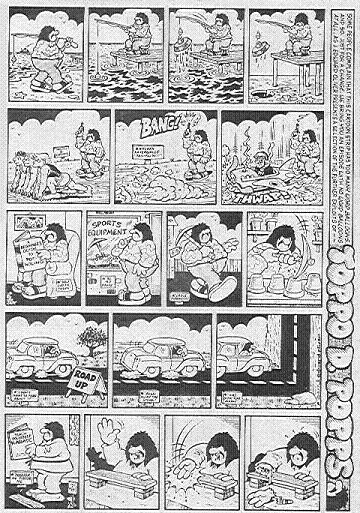 What was the first ever character you created?

Sorry, I can't remember the earliest ones. Looking back at an issue of 'Puxim' – read the title backwards – dated 10 June 1954, I see it featured Kip Jordan in 'Invaders From Space', 'The Phantom' (in ComicScope and Uphonic Silent Sound), 'Dunce' and 'Superkid'.

What was your first ever published work?

Strangely enough, not a cartoon but a set of line drawings of motor vehicles.

Where did it appear?

In a booklet published by the London County Council.

Then what?

I was still producing a hand-made magazine, 'Idiot Weekly', that was passed around the offices at County Hall. Sadly, the entire series was left in the ladies' loo, never to be seen again. After then making a one-off hard-to-lose hard cover edition (which I still have somewhere, if only I could find it), I went back to duplicating magazines – 'Whacky Jack' and 'Black Death' for sale. Finally, I had a thousand copies of 'Instant Garbage' magazine printed.

How did you get into professional cartooning?

I'd had the music paper, 'Disc', ever since it started. My main ambition was to produce a daily cartoon strip for a national paper (it still is), but I thought it would be best to start by submitting a trial strip – 'Toppo D. Popps' – to 'Disc'. Luckily, they had a new editor, who was keen to have a cartoon. He didn't care for Toppo, but asked me to produce a strip in the style of 'Brabarella', a parody that featured in the aforementioned 'Instant Garbage', for a four-week trial. The strip I came up with was 'E.C.Ryder' and it ran for seven years (though its name was eventually changed to 'J.Edward Oliver'. Fame at last!).

'Toppo D. Popps' eventually ran as a weekly strip in the Luton Evening Post.

How did you start working for Fleetway comics?

In 1977, the editor of 'Record Mirror', which had taken over 'Disc', brought my series to a halt, saying that, in the era of punk music, my style was no longer appropriate. I found myself an agent, who took my samples to IPC Juvenile Publications. It turned out that they were already familiar with my work and said that I would have a job there for as long as I wanted. They didn't mention that the whole department would close in another mere twenty-three years!

The world seems to have gone "retro" in recent years. Do you consider this a good thing, or are we now in a world starved of new ideas?

I think it's fine to bring back past material for a new generation of readers. In fact, I've done the same, myself, whenever possible! It should be possible for retro stuff to exist alongside new material, don't you think?

For Fleetway you drew, Master Mind, Cliff Hanger, Crazy Maisie, Vid Kid, Robin Good, and The Champ. I didn't miss any did I?

I also drew Blunder Girl, Teeny Sweeney, TV Quiz Kids and Calculator Corner, plus a varied loads of odds and sods.

Out of all those characters do you have a personal favourite?

I always liked Crazy Maisie. She didn't have a strip of her own – I just used to sneak her into other characters' stories – until the very last page of the final issue of 'Buster'.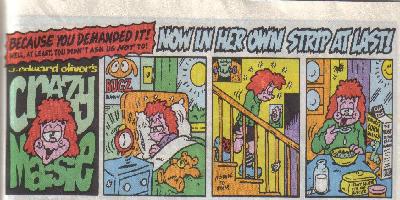 I was always proud of Cliff Hanger and Master Mind. They were both a bit different from the run-of-the-mill strips and each featured reader involvement, something in which I've always been interested.

I never liked Robin Good, though. Too much blinkin' drawing!

The Champ, as we know, was around before you began drawing him.

When I started on The Champ, I didn't realise he had already appeared in a past incarnation by Leo Baxendale. It was my idea to base the stories around 'Ginny's Book Of Records'. I made a mistake by putting a 'C' for 'Champ' on his jersey, though. I didn't know he was a Whizz-kid, not a Chip-ite, and should have had a 'W'!

As for the other characters, did you create them, or were they the creation of someone else? Mostly they were developed in consultation with Fleetway's Bob Paynter. I would come up with a list of ideas, which he would refine and develop. Teeny Sweeney, Robin Good and The Champ were all Bob's idea, I believe.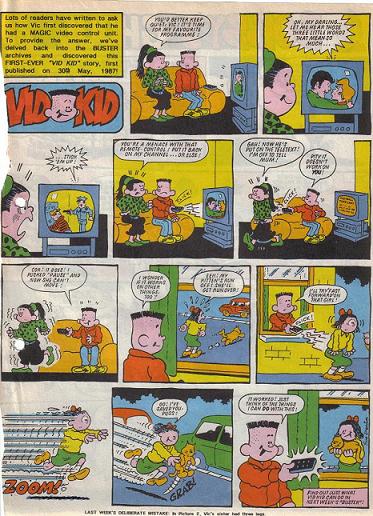 Did you write all the scripts for the characters you drew, or were you assigned scripts for all or some of your characters?

I wrote the great majority of the strips. I don't enjoy illustrating scripts by other people. They're forever putting in things that are difficult to draw, like bicycles and crowds.

At first, they let me script 'Vid Kid' but wouldn't let me do the lettering. Eventually they let me do the lettering but wouldn't let me write the scripts!

Apart from the opening episode, I didn't write for 'Robin Good' or for 'Teeny Sweeney'. I never met, or even spoke to, the people who wrote the scripts. I didn't even know who they were!

Were there any Fleetway characters drawn by other artists that you were a fan of?

I can't say I ever thought about it. There weren't any I didn't like.

Did you ever have to ghost any other artists' strips?

Not exactly. I drew other people's characters in strips for annuals and specials, usually in puzzle-related vein. Also in games, which I really loved doing. I refused to supply any games that were just 'throw the dice and move your counter'.

Of course, I had to draw just about all the then-current Fleetway characters for the letters pages and for the 'Whizz-Kids Vs. Chip-ites' series.

Do you keep in touch with anyone from the Fleetway days?

Allen Cummings, Buster's final editor, is a football pools customer of mine, via the post. His wife is a Fresco subscriber. I keep meaning to visit them.

I'm still in e-mail touch with Lon Goddard, Disc's final editor, who has returned to America.

What was it like revisiting old Cliff Hanger strips in the later issues of Buster?

Very good! It gave me a chance to re-present them in colour (I didn't actually do this myself: I collared a photocopy as a detailed guide to the anonymous person who collared the strips on a computer). More importantly, it gave me the opportunity to replace any endings that may have been altered by the editor back to the way I'd originally intended!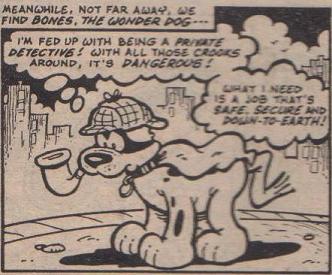 Any fascinating (or not so fascinating) facts about any of your characters you wish to share?

My first strip for Fleetway was 'Blunder Girl', appearing in the girls' comic, 'Penny'. I originally designed her as 'Blunder Woman' but was instructed to lose her breasts!

My original name for Bones, The Wonder Dog (in 'Master Mind') was 'Dobbin, The Dog Wonder'. Apart from being a pun on Batman's 'Robin, The Boy Wonder', I liked the idea of using the horse's name 'Dobbin' for a dog.

When stuck for ideas for 'Cliff Hanger', I used the pictures on tarot cards for inspiration. If I'm ever really stuck for ideas, my final solution is to have a bath... and not to emerge until I've thought of something!

You had to draw Tom Paterson & Jim Hansen versions of Buster for the letters page. Which one did you find easier to draw?

Tom Paterson's.

Did you prefer Buster's "Andy Capp" style cap, or the baseball style cap he was given from 1992 onwards?

The baseball cap. We artists weren't allowed to show Buster without his cap (at least, not in any detail). I'm proud of the fact that I finally revealed the secret of Buster's hairstyle in the final issue of his comic.

What is your opinion on the explosion of Japanese manga & anime? Do you think its popularity is part of the reason British funnies are now a rare species?

I don't mind the Japanese comics or cartoons. I'm thinking of doing a manga-style episode of my 'Fresco' e-mail strip. I don't think the Japanese strips have any bearing on the decline of British humour comics – I think that's due mainly to kids watching TV and playing video games instead of reading comics.

Are there any Japanese manga or American superhero style comics that you are personally a fan of?

I'm not very familiar with manga and I'm a bit out of touch with current American comics. I have quite a collection of superhero comics from the sixties and seventies, and an extensive collection of 3D comics. 3D in all its forms is a particular mania of mine. Did you see my 'Bustervision 3D' page in 'Buster'?

We have discussed this in the forums many a time, but in your opinion when was the beginning of the end for Buster?

When they repeatedly cut the budget in the late eighties, resulting in more and more reprints and a higher and higher cover price. At the end, I was the only 'live' artist left, and all I did was the flash on the cover plugging something inside.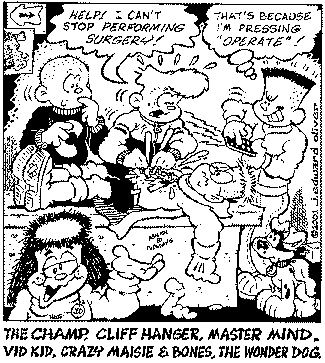 Now Buster has folded a lot of people are unsure about the rights to certain characters. Are you able to shed any light on this? Would obtaining the rights to characters you created be something you would pursue, or is the past in the past?

IPC would not allow their artists to cash their cheques unless they signed a statement on the reverse agreeing to give up all rights. The editors admitted to me that it must be upsetting for unemployed artists to see their work continually appearing in reprints. They said that the reason for not paying repeat fees was that it would be too difficult for them to keep tabs on the whereabouts of former artists. A likely story!

Personally, I never signed the statements on the back of the cheques because that was all dealt with by my agent, so I'm not sure of my own legal standing in these matters. I know that Fleetway sold some rights to past material to other publishers: I've seen my own stuff appearing in more recent puzzle magazines.

I'm not planning to pursue this, largely because I wouldn't know what to do with the characters, anyway. I do have a lot of my original artwork because I used to pick it up when delivering to the office. Great piles of other people's work would be lying around on the floor: nobody seemed to want it and I don't know what eventually happened to it.

I'm sure that I never signed away the rights to Crazy Maisie and I am considering letting her make a comeback in my e-mail strip.

What equipment do you use for drawing?

I use a Rotaboard rotating drawing board. This has seen better days and it's currently propped up on two volumes of Funk & Wagnalls. I don't think the board is manufactured any more, so I can't get a replacement. I don't know how other artists manage without one, especially when it comes to drawing or writing upside-down.

I should perhaps mention that I'm one of the only cartoonists who prefers to draw actual size, instead of drawing larger for future reduction. I save on ink and paper, but I have to be extra careful to avoid mistakes. I also have a special pair of glasses for use a few inches from my board.

I use 0.3 and 0.5 mechanical pencils and Rotring Rapidoliner technical drawing pens, with 0.25, 0.35 and 0.5 nibs. Rotring have discontinued these pens and I'm currently using a supply of old stock I obtained via e-bay. I'm a bit concerned about what I shall use when these run out. I like to use fibre tips but the ink lines tend to break up when I'm erasing, and I've not been able to find a make of pen that reproduces well.

Working as small as I do, I currently draw on A4 sheets of Rey 160gsm white card.

What percentage (if any) of your cartooning work do you do on a computer?

I used to use a computer very little – only for scanning strips and sending them out as e-mails. I've recently started using it much more, for colouring strips, inserting photographs, duplicating pictures for repeated scenes, and special effects. I'm hoping to be able to use my PC to produce more 3D material. I'd say that the percentage of my work I currently do on the computer varies from 5% to 80% and counting.

Oh, and a computer is very useful to e-mail clients to show them the work in progress.

If you do use a computer for drawing, is there any software package you prefer to use?

Yes, I make great use of Adobe Photoshop Elements 2. More recent versions won't run on my computers because they're only Windows 95 and 98.

In your opinion has the industry changed a great deal since the introduction of computers?

I guess that fewer people than ever go into the office to deliver their work but, apart from that, I don't really know. Sorry.



You have recently released the Fresco mug, which I had imported & it's very nice. Any plans for anything else?

Not until my Cousin Steve and I recoup the money we invested in the mugs... and there's still quite a long way to go. We wouldn't mind producing more merchandise if it doesn't call for large investment. I'll keep you informed, but, in the meantime, why not buy another mug?

I know I'd personally buy a "Bones the Wonder Dog" plush toy, but that would depend on who owns the rights I assume?

I'd never even thought about a Bones cuddly toy. Apart from the copyright issue, I think that the costs would be astronomical.

I do have a soft toy Fresco. They were produced as the pop awards given by 'Disc' in 1975 to such people as Paul McCartney and Mike Oldfield, and they also had a surprise one made for me. You can see it for yourself in selected episodes of the Fresco e-mail strip.

What is your opinion on comic art that is sold on Ebay?

Fine. Nice to see it on display instead of mouldering away in some shoebox.

Is there anything else you would like to share with your legions of fans?

It's been great hearing from people who've liked my work over the years, some of them from thirty years ago! I've always felt I drew the strips for the readers rather than just for the money and it's pleasing that more and more are signing up for my Fresco e-mail cartoon. I'm hoping to get such a huge number of subscribers that the editors of national newspapers will no longer be able to ignore me.

Sadly it was never to be and Jack died on the 26th May 2007. You can still visit Pete Sanders' JEO site www.jeoliver.co.uk where you can view all of his Fresco strips, see many of these images in their full glory and learn more about the great man himself.

My thanks to Paul Monopoli - former webmaster of bustercomic.com for allowing us to print this interview.

Back to the Buster Stars Interviews