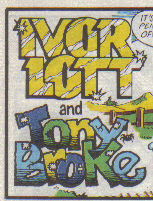 Ivor Lott & Tony Broke
Started in Buster: 22nd June 1974

Ended: 27th October 1990

Comic Launched In: Cor!! (Continued in Buster)

Other Comics: None

Artwork: Reg Parlett to 1982
Sid Burgeon/Jim Crocker from 1982 - 1990

From 6th February 1982 Milly O'Naire and Penny Less co starred in this strip as the girlfriends of Ivor & Tony. Milly & Penny first appeared in their own strip in Jackpot

The strips were reprinted in Buster's Last 10 years and Ivor & Tony appeared in Buster's final issue.



Can you add a synopsis or images for this story? E-mail Webmaster@bustercomic.co.uk

Back to I

The Strips

Ivor, Milly, Tony and Penny Strips