The History: 1970 - 1979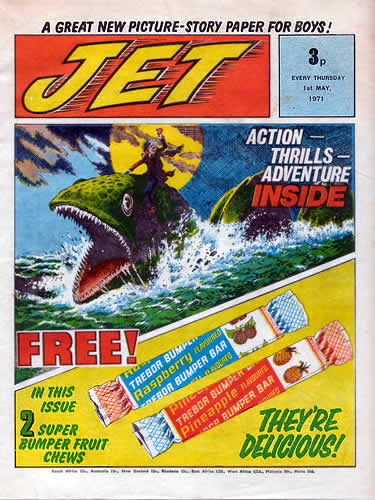 Jet Issue 1, May 1971



Buster was still popular as it entered the 1970s and celebrated it's tenth birthday. Then in October 1971 the first incorporation of this deacde took place.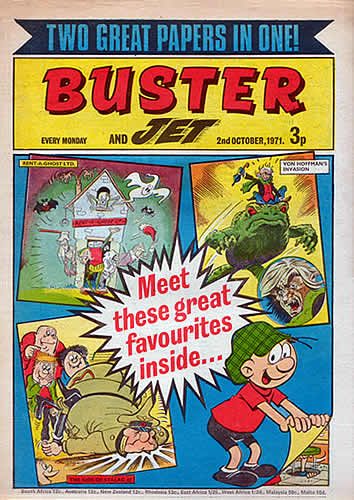 Buster Meets Jet, October 1971



Jet only ran for five months before it merged with Buster and with it came a story about a mad German scientist (Von Hoffman's Invasion). The Sludgemouth Sloggers also came with Jet to Buster, as did The Kids of Stalg 41, Bonehead, Bertie Bumpkin and the ever popular Faceache.

In 1973, the first reprints appeared in Buster. Repeated stories were used from Bluebottle and Basher (Valiant), Blarney Bluffer (Knockout/Valiant) and Nits of the Round Table (Tiger). It was beginning to become clear another merger was needed.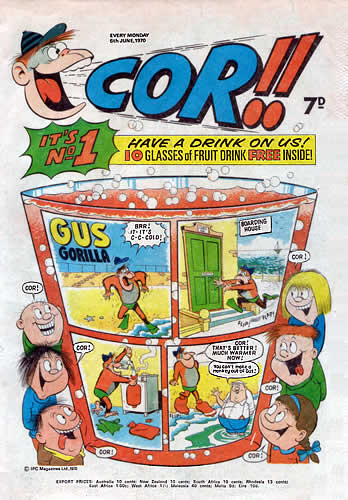 Cor!! Issue 1, June 1970



Cor!! was four years old when it merged with Buster. In June 1974, Gus the Gorilla joined the Jokes page whilst Spectre Inspector, Football Madd, Val's Vanishing Cream and Chalky joined in their own strips. This breathed life into a comic which could have ended at it's tenth birthday. However, just two weeks into the merger Buster was stopped for four weeks. The 6th July and 3rd August 1974 saw industrial action within the industry. On it's return in August 1974 the comic began going from strength to strength and the new characters were as popular as ever.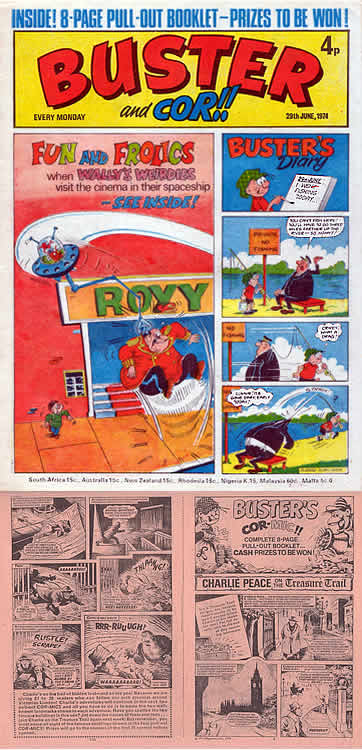 Buster and Cor!! (above) from June 1974, plus the pullout from that Issue. Cormic (pink) featured reprinted Charlie Peace and 2 competition pages.



Buster's next merger was with Monster Fun which launched in June 1975. This comic ran for 72 issues, and merged with Buster in October 1976.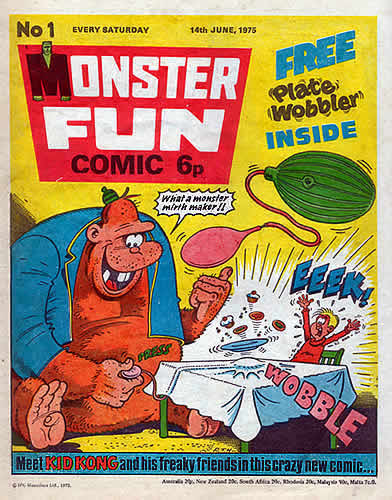 Monster Fun Issue One June 1975



With it, came the strips that more modern Buster readers are likely to remember. Gums, Mummy's Boy, X Ray Specs and Kid Kong all became Buster regulars. Buster was beginning to take the form that would last to its end, with Ivor Lott and Tony Broke now in a two page strip.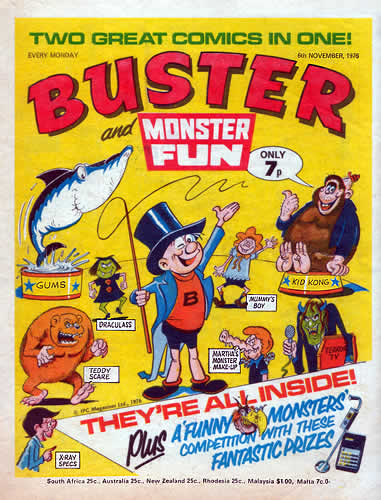 First Combined Issue of Buster and Monster Fun, June 1977.



Buster was beginning to face competition though. The Beano and the Dandy had always been the most well known of comics, and as we headed towards the eighties, video and computer games were beginning to sell. As the eighties approached, Buster needed to keep up the readership, or lose out completely.



Take me to the 1960s

Take me to the 1980s

Take me to the 1990s

Take me back to The Contents Page